I recently went exploring around Loch Freuchie, northwest of Perth, Scotland. It's a nice mountain loch, with plenty of wildlife. Here are some of the photos that I took.
---
The walk starts and ends at Amulree. There's a car park at the nearby community hall (free, cash donations accepted), though there is no pavement between the car park and the start of the walk in Amulree itself, so be careful of that.
Going anti-clockwise, the walk starts at the footbridge in Amulree over the River Braan, and follows the farm tracks northwest along the side of the river and up to the loch. It then winds around the northern tip, and on the way back you walk south along the single track road. Luckily the road is not very busy.
I saw plenty of wildlife. Lots of birds: Pheasants, Lapwing, Crows, Geese, Swallows, and the odd Curlew. I also saw some mammals – Rabbits and hares, and a flash of red that may have been a red squirrel or a pine marten, It ran away before I could get a better look.
The surrounding mountain landscape is typically Scottish, with lots of heath covered mountains and forestry. The electricity lines going everywhere are a bit ugly, but there's not much to be done about that.
All the way around, the walk goes for about 13km, and took me about 3.5 hours including a stop for a picnic lunch half way along. The path is mostly flat, so not too difficult a walk, and I think it would make for a nice cycle, too.
Photos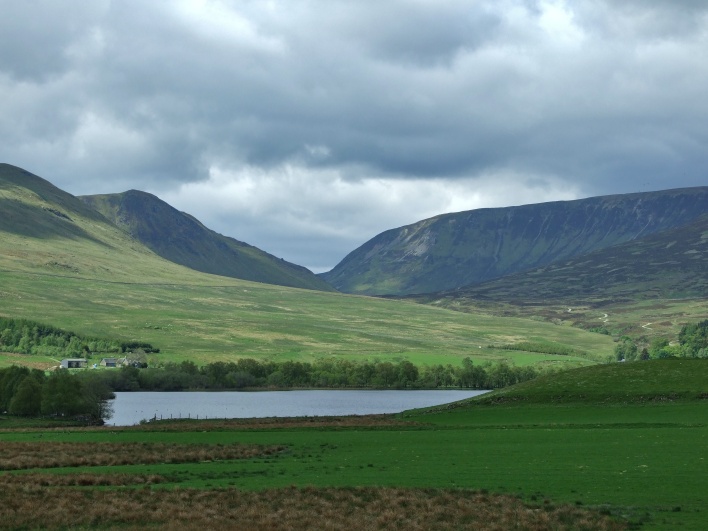 Map
Amulree and Loch Freuchie is north west of Perth, and can be reached by the tourist route going along the A9, then the A85 and then up the A822.