Over the past couple of weekends, I have walked some of the mountains around Perth. Getting them in before the possibility of a 2nd Scotland-wide coronavirus lockdown! In this blog post, I'll share some of the walks I did and some photos I took.
Moncrieffe Hill
The first weekend I went on a walk around Moncrieffe hill. The south car park is difficult to find if you don't know what you're looking for, but the north car park is more obvious. Access both car parks from Rhynd road.
The hill itself is mostly wooded but offers some very nice views. The paths vary a lot between flat walks through the forest and very steep paths with and without steps in places.
When you can find a spot without trees the views are great. At the top are mounts where old hillforts once stood. These offer the best views. But even within the trees the scenery is pretty, with a wide mixture of trees and wildflowers.
The only big downside to this walk is there are certain parts to the south east of the hill which are very close to the M90, which makes for a rather noisy walk.
After the walk me and my fellow walkers went for a meal at the Gateside Home Farm restaurant. The burger served with a bean medley is very tasty. There is also Elcho Castle that you can visit, however it was currently closed because of the coronavirus
Kinnoull Hill
The 2nd weekend trip was to Kinoull Hill. The weather was markedly worse, with a very dense and low layer of fog. We parked in the South Inch car park and accessed the hill by walking across the nearby rail bridge. There is a national trust car park closer to the base of the walk if you have a subscription parking pass. The hill has many connections to the local parts of Perth no matter where you start from.
Fog makes for a strange but beautiful walk. Seeing a forest and mountain from within a cloud is an experience everyone should have at least once, and when you get to the top it the sea of cloud that surrounds you with other hills poking through the top looks crazy. Even if the hill isn't that high, compared to some places in Scotland, it still feels impressive.
We went to Perth on the 1st Saturday of November. Every 1st Saturday there is a farmer's market, where you can buy everything from soap to oysters.
Maps
Here is a map showing the main area of the hills around Perth, as well as some of the car parking spots.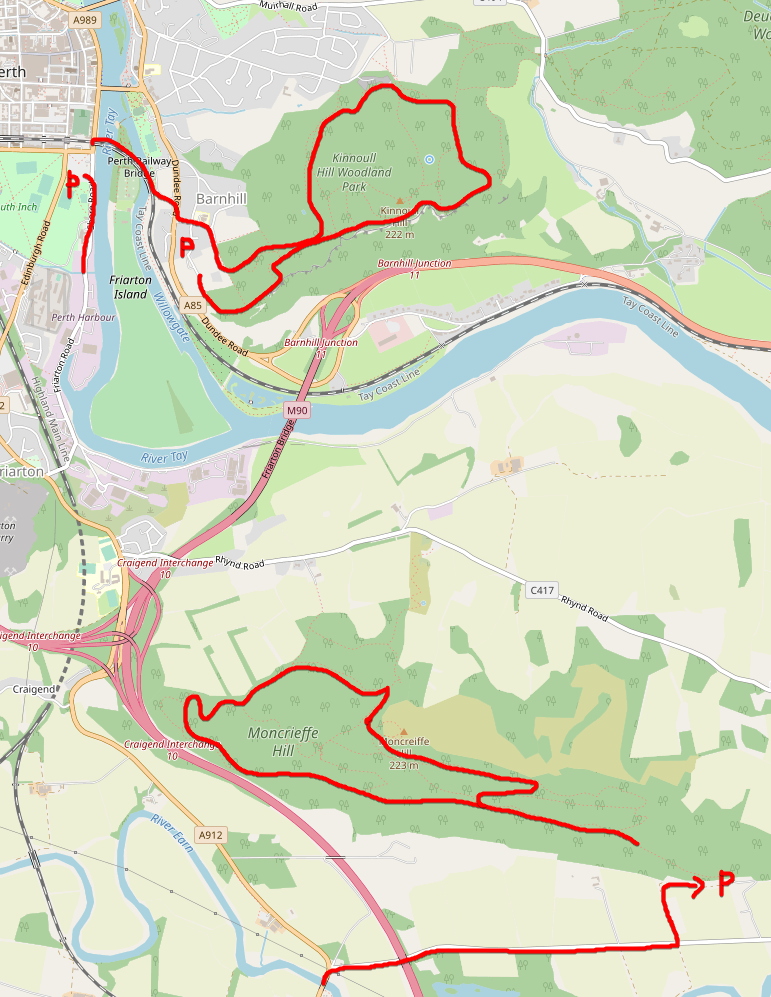 All of the photos in this blog are © Me, 2020. WordPress made them kind of ugly, but if you open the image file directly and change the URL to remove the garbage dimensions at the end, you can get full size photos for personal use only.