I have started a petition to Ban DRM. It has been published today, and I would welcome everyone to sign it.
---
What does DRM do?
I am not the best at explaining this kind of thing, so I thought I might start with a bullet list of problems that DRM has, I'm sure something on it will speak to you:
Render ebooks unreadable [BBC]
Lock publishers into bad deals [the Guardian]
Prohibit screen mirroring [How To Geek]
Kill off games via online activation [Polygon]

Kill off any old game, book, film that doesn't have the server any more

Force you to use opaque software just to browse the open web [Widevine]

Force you to use opaque software to do just about anything

Discriminate against your user agent or operating system [ARS]
Stop you tinkering with tech that you own
Give companies a killswitch for tech that you've bought
Give companies monopolies and walled gardens that lock customers in
Treat paying customers as untrustworthy villains

While giving internet pirates the best, cleanest, experience

Pollutes copyright law
If you can think of more, leave a comment
What does the law say?
If you try to remove or bypass DRM on tech that you own, even physical devices, you are in breach of international copyright law. Copyright law has always been slow to keep up with the times, but the provisions in place to allow for DRM are obscene.
Why should tinkering with a gadget have anything to do with copyright, when it's impossible to breach intellectual property by copying it?
If I can scribble, score out, write in the margins of a physical book, why is trying to edit an ebook I bought illegal?
Why is trying to repair make my tech so that it can last longer an affront against the law?
Companies love to hide behind DRM because it gives them a sense of power, and if they have power, they can extort more money out of people. Gone are the days when you can buy something and have it "Just Work".
The law must work for consumers as well as for companies, but right now it is only concerned with helping corporations dictate the market.
Precedent
There is precedent for DRM not being required (aside from the centuries prior to its invention). The digital music industry really struggled against the tide of pirate music at the turn of the millennium. Apple tried to lock people into their ecosystem with DRM'ed music. But when the industry finally abandoned it and people could listen to their music on any device, it allowed the whole industry to explode in popularity. The marketplace flourished as suddenly anyone could make and sell an MP3 player which would work with any music file. The music download industry gave up on DRM quite happily once there was competitiveness in the market.
I see no reason why other industries: Gadgets, TV & film, Games, can't apply the same logic. DRM ultimately does not work to protect copyright [The Guardian], and trying to shoehorn it in everywhere only makes matters worse and turns the fight against DRM into an arms race.
Please Sign & Share
Please sign and share the petition: https://petition.parliament.uk/petitions/551027
Please also consider sharing this with your MPs/MSPs or start your own petition if you are outside the UK.
Please also share your own experiences with DRM, on your blogs, on your social media accounts. This is just my own account, and social causes never get anywhere on just one person's work. To fight something, we first need to drive it into the public eye, and personal stories and concerns work great for that.
The law is always changing, and DRM doesn't have to be a certainty. If we voice our concerns, we can #BanDRM.
---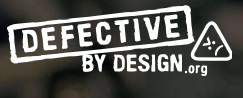 More resources are available at https://defectivebydesign.org