Everyone has an idea for how to fix the environmental problems we face. I'll throw another one onto the pile.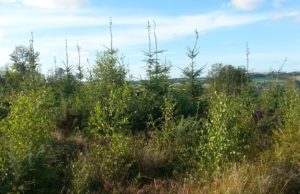 Recently, we have had students protesting to save the environment. Young people banding together to make their voice heard. Something which I applaud, people deserve to have their say like this, even if the highest in government criticise them for it.
We have also had other organised groups leading altogether more questionable protests to save the environment. While I enjoy civil disobedience, I don't think these are helpful especially considering they have disrupted public transport, a successful solution to reducing air pollution.
The solution we really need if we want to combat climate change, the immediate change and action we need if we are to make a dent in reversing the problem… Is war. Don't misunderstand, not a voilent war. Not going and invading countries that mine oil or killing people who pollute too much. By "war" I mean the political and social mindset that goes with it.
I have heard the idea of a "State of Emergency" for the environment has been thrown around by politicians, but that doesn't cut it. A State of Emergency is a passive act. You are reacting to external events. It is a coping mechanism. What we need is to fight for a solution – hence the warmongering terminology.
The last time there was such a massive immediate threat to life was World War 2. During it, politicians put differences aside to fight for what was right and good for all. People banded together to fight for a common cause, even if it put them through some hardship or difficulty. Society could shift quickly in ways that might have seemed unreasonable in peacetime.
With climate change the threat is all too real. But it is not immediate. It is a slow burn, and that makes anyone who calls for fast acting action a radical whose opinions could never be listened to seriously, despite how well intentioned they may be.
Fast action is what we need. We need to rally together to fight off the enemy. The enemy is an almost intangible force of nature. In a bizarre way, that enemy is our past selves. Big changes need to happen to solve climate change, and everyone will be affected by it for the worse. But short term difficulty is by far preferable to being doomed forever.
Governments make targets decades down the line when we need change to start tomorrow. Politicians want to save face by "safeguarding" jobs that might be lost if we had to make the changes needed. It is disheartening to think that some people might have to quit their jobs, but if they work in the oil industry then that job must go as far as I'm concerned. Skills are transferrable.
War for the environment would bring progress. Despite the feelings you may have about war, it is undisputable that wars are engines for progress. Societal progress, maybe. Technological progress, definitely. In a situation of war, the government and private entities are incentivised to seek out far more efficient means of killing people. In war for the environment, those same groups could be incentivised to seek out new more efficient and environmentally safe means for every facet of life. People who previously had to give up jobs will have skills that could be useful in brand new industries, we just need a push to start investigating them.
Money can be hard to come by normally. When faced with a budget, it is hard to blame politicians for cutting out long term environmental projects in favour of more immediate needs. But in a war, a situation where everyone had to fight together for a common cause, suddenly the idea of money becomes less of a priority when pit against the problems that needs to be overcome.
At the end of the last World War, people and countries made pacts to remember the past and not make the same mistakes again. To not willingly or passively allow such horrors against human life to occur. We've been fairly good at that. But now there is a threat just as great looming on the horizon. Entire future generations are doomed if action doesn't occur fast. It would be incredibly irresponsible to just sit back and let it happen. Perhaps going to war isn't quite the best idea, but there are certainly lessons that could be learned from the idea.