A Cycle Around Glenrothes
Recently there was a spate of good weather, and given that one of the hot days fell on a weekend I decided to take the time to enjoy one of the few days of warmth Scotland will see during the year. Given I had recently serviced my bike, I wanted to take it for a ride all around the town I live in, Glenrothes, Fife. I figured it would be a neat idea to show off the route, if only to inspire someone else to get cycling as well.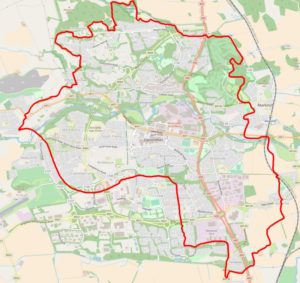 Leslie
To the West / North-West of Glenrothes is the village of Leslie. My route starts at the Viaduct and takes me through the centre and behind the park.
There's a road here that leads up to the Lomond Hills Regional Park, which makes for a good hike.

Today though, I continue past the Electrical Substation (not pictured, because its ugly) and up through Glenrothes proper.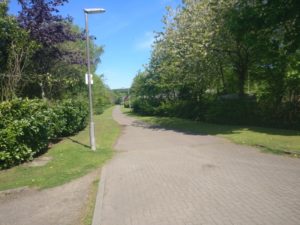 Fortmonthills Community Woodland
This next part really requires a mountain bike. No road bike or unicycle will get past, unless you're particularly adept at cycling uphill.
The community woodland covers the whole mountain area to the North of Glenrothes. It's full of lots of nice paths to explore and once you get up the initial climb it's great for cycling around.
The one major annoyance are the gates the local council has put at various locations throughout.
I suppose these were initially intended to prevent motorcyclists and such hooligans from gaining entrance, but they don't provide much protection against that considering one of the main paths in the woodland actually crosses over with a road. Pictured is a sign which claims that in order to be *Wheelchair Friendly* people can purchase a key that will unlock the gates to let them past. Putting aside the fact that this seems like a racket, the URL is dead, so no wheelchair users are welcome, I guess.
Taking some time to get your cycle past the gate, the various paths show off lots of trees, birds, and have good views when you get higher up.
Keep quiet and an eye open, and you can even spot deer.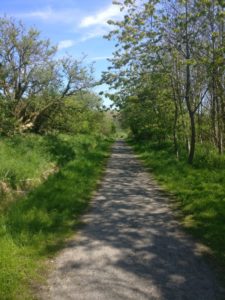 Entering the Coul Den Nature Reserve, the path forks, offering a view and route up to the Lomond Hills. This can get quite bike unfriendly, as there's a river valley to get down. If you can manage that, on a good day this is another good route to take.
Eventually the river valley flattens out to a nicer descent, with a good view of the Coul Resevoir the river feeds into. Mind the bridges here, not all of them have railings.
Getting to the end of the reserve, and past the final gate (this one actually opens easily without a key, go figure…) I follow the Coul Burn walk. Not many pictures here, as though it's called a walk, on a bike it offers a really high speed descent, with some very steep drops.
The walk abruptly ends at a junction of one of the main trunk roads, so that can provide an unpleasant crossing. However, it seems everyone is at home today relaxing, so not too much traffic luckily.
Markinch & Balgonie
Once I safely frogger my way across the road, I reach the North entrance to Balgonie Park. This path takes me around the Estate that owns the land and Golf Course and through Balgonie Park to Markinch.
Balgonie Park itself makes for a really pretty place to cycle – or walk – through, especially if you go during a season where things grow. There are lots of flowering plants, trees and bushes, with some very large Rhododenra, if that's your thing.
The route I'm following will cut across Markinch, through the central park square. If you ever travel here, bear in mind there's a Train station offering access to the Edinburgh-Aberdeen Line. Passing through to the south there's also Cycle paths that leads directly in to the Glenrothes Town Centre and to the North.
Instead of heading into town, I'll continue my route around it. Over the pedestrian bridge (much safer to cross a road with), I go through the farms to the east of Glenrothes. I discovered something interesting here about the River Leven, the basin of which is where Glenrothes is built. At some point in the past, industry must have required a special water source, and at several points another one in Leslie, the river is split off into canals, none of which seem to be used any more.
The farmland here can be cycled through, but it's not as nice a cycle as elsewhere. It is best on a dry day, otherwise it gets far too muddy.
This small path heads over the rail line and into the small village Coaltown of Balgonie – 50 points if you guess the industry it built around. Its very small, and I skip through it to the farmland to the south.
The South & Thornton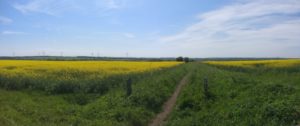 The south of Glenrothes has several routes further, including the History Mary Queen of Scots route to Kirkcaldy and the Fife coastline. I won't go that far, instead following the farm tracks through the fields of really pungent crops – rapeseed.
There's also a local group of model plane enthusiasts which meet up here to enthuse about model planes on weekends.
Making it into Thornton, I can re-join the proper Fife Cycle route. Glenrothes, being a New Town, was built from the ground up after WW2. In so doing, the local government considered building it with special cycle/pedestrian routes throughout the town, which are great for sans-vehicle accessibility. I would also praise the EU for offering to help with building of new Cycle-Friendly roads in this regard.
The Cycle Route
The official cycle route leads through the Stenton area and links up with a route that heads straight into the centre of town. I follow the branch that leads around in a wide circle to the west of Glenrothes. Having used these routes very often I have to say how glad I am that they exist. They're flat and in very good condition, in contrast to the roads, which makes getting around really easy. They're also away from the roads, so there's no concern of breathing in loads of exhaust fumes as you would get if you had to cycle on the main roads to get around.
This route eventually leads into the Glenwood area, and loop back around to the viaduct leading into Leslie, which is where I bring my journey to a close.
Hopefully this was an interesting insight into Glenrothes, and hopefully some of you who read this can be inspired to get out and explore your local area by cycling. Weather permitting, of course. Having had our days of hot weather, Scotland is liable to resume its usual course of drizzle and damp, but its fun to get out and cycle on the good days.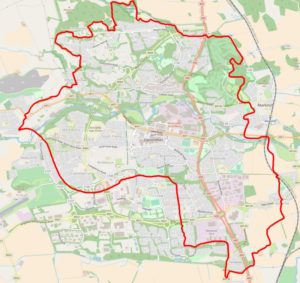 Total journey time: 2 Hours exactly, roughly 24Km.