3 Days in Iceland
I spent 3 days in Iceland after Christmas and before the new year. Here are some of my thoughts on this trip.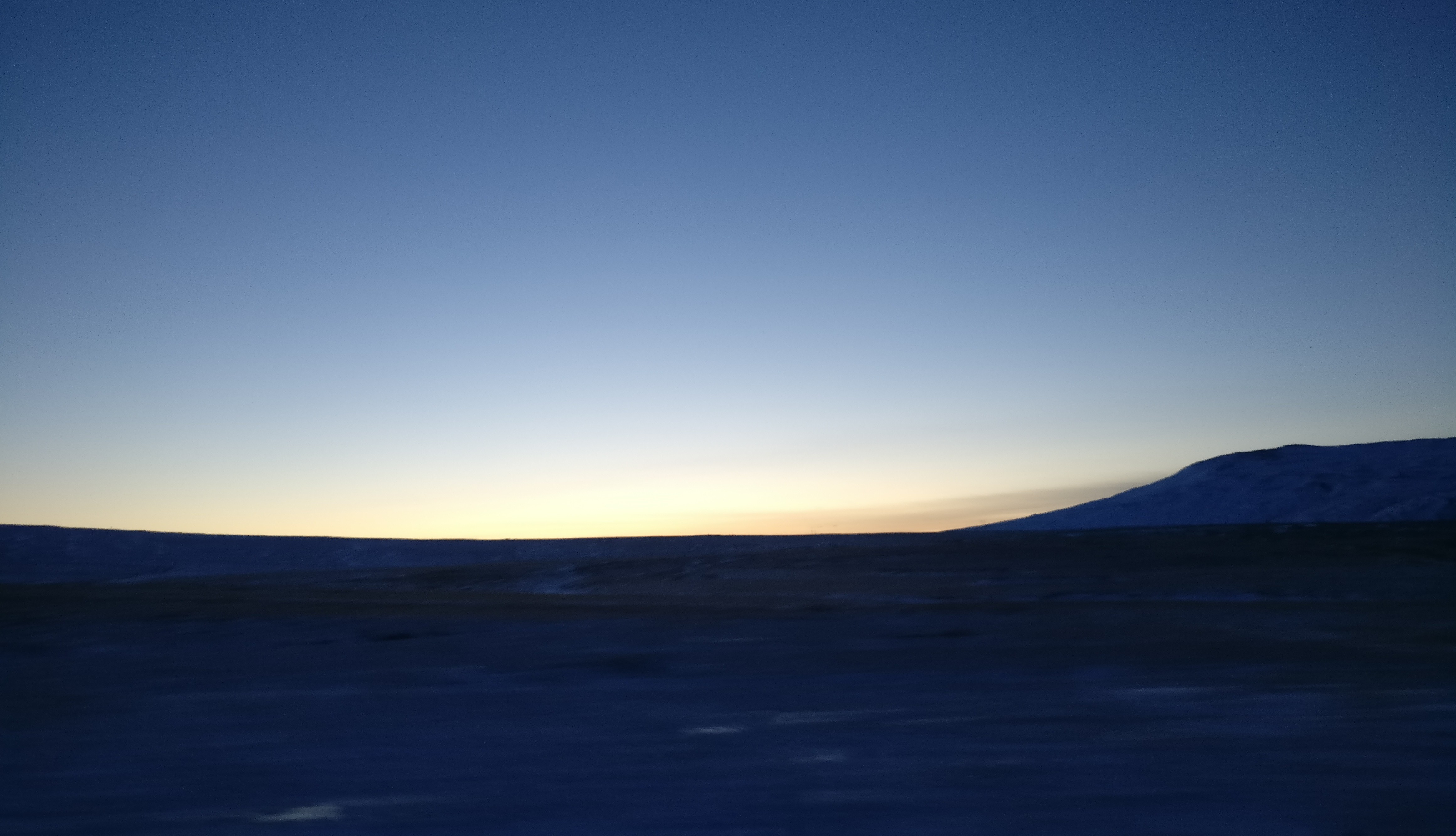 Flying out
I went on this trip as part of a winter holiday with my family. We started by flying out from Glasgow (Scotland) with Icelandair to Keflavik airport.
I won't say much about Glasgow other than the airport is a little confusing to drive through – spend some time beforehand looking at a map. We stayed the night before the flight at a Holiday Inn Express, link here, not to be confused with the Holiday Inn which is 100m to the west of it. Road signage to this effect is not particularly helpful.
Finally in Keflavik, the airport itself is quite a ways out of Reykjavik (Reykjavik has an airport, but for domestic flights only), luckily there are is a bus shuttle services – I used flybus – to take you into the city, and these can go right to some of the hotels.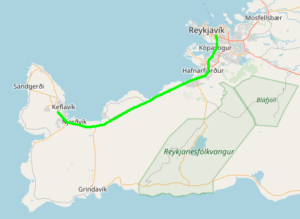 The Hotel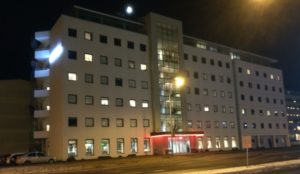 We ended up staying at Hotel Cabin, which is quite a low-budget hotel. The rooms are small and kind of packed together, making use of a configuration I must admit I've never seen before – 3 rows of rooms on one floor, whereby an unlucky patron (such as myself) can end up in a room with a window that has a nice view of the corridor. This window also allows light to bleed in from the corridors always-on lights: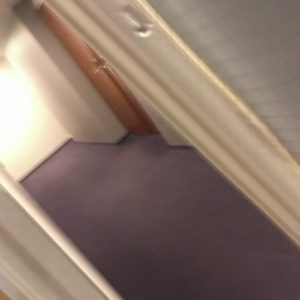 The beds are too small for me, feet dangling off the end, and the pillows are very hard. Not sure what they're made of – memory foam mixed with rocks or something. The staff are very nice and helpful though, and if you want to swap out your bedding for something a bit softer you need only ask. Be careful of the reading lamps on the wall behind the bed, it is possible to knock your heads against them as you rise.
And included in a room is a free (cold) buffet breakfast which starts serving very early in the morning, which is helpful if you have an early starting tour or flight out. The hotel offers an evening meal (hot and cold buffet), but having tried it I think you would find nicer food if you go out into town.
Hotel cabin is located very close to the waterfront of the city, but not on it. Instead you get a nice view of a road services station, which had a temperature readout on a sign in front that never exceeded -4℃ for our whole visit.
Reykjavik
Our first night and second day we spent exploring Reykjavik itself. The city centre has lots of streets with a really diverse range of architecture. There's a wide mix of old style buildings that look more traditional to some of the more modern ones, including at the impressive Hallgrímskirkja church atop of the city  (closed to a private function the day we visited, it would have been nice to see inside).
Along a lot of the buildings in the centre there is lots of street art (graffiti, maybe, but it looks like it took some time and effort to do), that adds a lot of life to otherwise blank walls.
The Harpa centre is a particularly impressive building, with lots of glass built in quite an abstract style. This building offers a nice respite from the bitterly cold winds (wind chill that pushes the temperature even lower) that blow over the open sea. If you go up to the higher levels indoors it also has some very nice views of the surrounding bay and over the city itself.
There is also a very nice pond at the centre of town behind the tourism office, completely frozen in winter. That was my first ever time walking on some water where there was enough Ice to support my weight. That's something I've never seen in Scotland.
Be careful walking about the roads of the city. I am still unsure of the rules surrounding crossing the roads as there were many moments where a car would take a turning, despite the pedestrian traffic signal indicating safe passage. It is entirely possible that these are tourists hiring cars and not quite understanding the road laws, but regardless you should take care.
The Aurora
On two occasions the weather (and activity from the sun) was kind enough to permit viewing of the aurora. The first night we were able to get a display visible along the waterfront of the city, near our hotel. This display was bright enough to be able to capture it on my phone's camera (OP3, with 30s exposure, and no tripod so they're a little blurry):
On our 2nd night we had arranged to take a tour, that is take a bus to a remote location, to see the aurora out in the middle of nowhere away from city light pollution. Unfortunately the display on this night was very dim and I couldn't capture it on a camera, and indeed was barely able to see it.
You can't really count on seeing the aurora, it's quite hard to predict. Luckily, the tour operator, Reykjavik Excursions, offers a free re-booking if you miss the aurora. I will say that I'm not really convinced by the tour they're offering. The tour guide gave a nice explanation of the Aurora and some of the Icelandic story surrounding it, but promised a meditative experience. Even had I been able to see the northern lights I do not think I would have been able to achieve a meditative experience in a remote car/coach park amongst a hoard of other tourists. Simply seeing the aurora (the previous night) at the waterfront was far more enjoyable.
Eating out
There are several places where we ate out in Iceland and I would like to make mention of the better places. The restaurants I mention are all located in Reykjavik and are nice places to jump in to eat and get out of the cold.
Salka Valka
Skólavörðustígur 23, 101 Reykjavík, Iceland | Website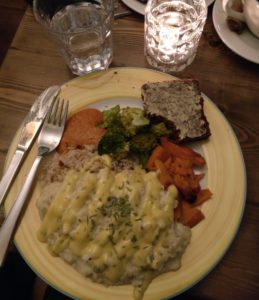 This restaurant is located on the road leading away from the Hallgrímskirkja church. I ordered Plokkfiskur, fish stew served over rice, which was very nice. It came with some rye bread, which wasn't bad though it was a little dense for my taste. The restaurant itself is quite nice, and full (but not too busy or loud) in the evening.
Salt
Geirsgata 3, Verbúd 11, Reykjavik 101, Iceland | Website
In one of the buildings by the harbour, this restaurant is quite calm and not too busy at lunchtime. I had their Fish of the Day, fried Halibut, which tasted fantastic. Came with some very nicely cooked sweet potato crisps, sauce and mash. The veg (kale and carrots) were not too over-cooked like most tend to make them, keeping them crunchy.
Scandinavian
Laugavegur 22a, Reykjavik 101, Iceland | Website
Along one of the city centre streets, this restaurant focuses not just on Icelandic food, but Scandinavian food in general. I had their Reindeer pâté starter, which had pâté served on salad and lightly toasted bread. It had a nice chutney on top, which helped keep it from being too dry. The pâté itself was nice, and not too gamey as I had initially thought. I then had the house special tagliatelle – creamy pasta with smoked salmon, which was very nice and so filling that I couldn't finish my plate. Came with some nice cheesy garlic bread.
It was full at dinner time, and my only real problem there was the draught that came through the door each time it was opened was quite noticeable and annoying, so pick a table out of the way of that if you visit.
The Golden Circle
On our final day, we took a tour of some spots on the Golden Circle (a selection of tourist spots in the southwest of iceland), and I think this was by far the highlight of the trip. Baldur (from Gateway to Iceland tours) was the guide on this trip and was funny, well informed and all round a good host. One good thing about Gateway's tour was that it had a small number of participants on the tour, which makes things a bit more personal, compared to the larger companies that do busloads at a time.
The first spot on this trip was a stop at Þingvellir. This involved a nice (though cold) walk through the crag that housed the old outdoors parliament of Iceland. It's also located right on the area where Iceland is splitting apart, which is quite interesting to see as it covers a whole valley next to a lake, rather than a single spot. No immediately visible seam, though.
On the bus journeys to the different areas, Baldur told lots of stories about the history of Iceland and how it has grown into what it is today, with plenty of interesting anecdotes about different locations. This did a good job of keeping things nice and cohesive across the different areas, even if some of the stories might have some questionable truth to them.
Next, there was the hot springs at Geysir. No eruption from the big Geysir, but the smaller more active Strokkur went off a few times while I was there. I've never seen any geyser fields before so this was a really new experience. It stinks, but it's very interesting to see, particularly in winter because of all the steam which is visible in the cold weather. Makes for some quite treacherous walking though, because everything is covered in a layer of ice.
After that, Gulfoss. One of Iceland's most famous falls, and a very impressive sight. Its huge. It's also located on a pretty open space at the start of the highlands of Iceland, and utterly freezing with the air temperature at 11℃. The amount of moisture that is probably present in the air doesn't help the temperature. Despite it being a little uncomfortable, I am definitely glad to have been able to see it. It is very worrying to know that some attempts have been to turn it into a hydro-power plant. With all the geothermal power available as an alternative, it would be terrible to instead damage these wonderful falls.

As it got dark the day was rounded off with a visit to the Secret Lagoon, one of Iceland's outdoor hot pools. It's not quite as famous as the Blue Lagoon, and a bit out of the way, but was a great experience to try. Contrary to what I had initially thought, it's actually quite pleasant as you really don't feel the cold, despite the massive temperature difference between the water an the open air. I would recommend this one of you're looking to try one of the lagoons.
We got back to our hotel not too late, fully refreshed from the visit to the pool. Baldur suggested that the New Year's displays of fireworks in a few days time would be an impressive sight, but unfortunately this was the final day to our trip. Though we wouldn't see the fireworks, this trip as a whole was a perfect way to round our trip to Iceland off.
Final Words
Iceland is a fantastic place to have a holiday, though it can get very cold. Wrap up, bring lots of money (things can get pricey), and definitely seek out local foods and traditions, such as visiting outdoor hot pools and landscapes. You'll enjoy it.
All photos directly embedded in this blog post are Licensed under the CC-BY-SA-4.0 license to author LonM. I do have slightly higher resolutions available. Some extended panorama images can be found here, here, here and here.